What to look for when choosing a Sugaring Professional
With so many taking to social media about sugaring hair removal, it is no surprise that Sugaring is gaining popularity quickly. I have been sugaring since 2010, twelve years as I write this post. While I have a Tik Tok account, I've yet to post any sugaring videos to it. However, I am still gaining clients due to others who have TikTocked about sugaring. My established reputation is serving me well. The interest in sugaring is growing yet in many places it is still a very real challenge to find a sugaring professional.
As time goes, many are bypassing educational requirements. People in the beauty industry are teaching their cousins how to perform a service. Some folks are simply "YouTube" trained. If you couple second rate, virtual training with products sold on Etsy or Alibaba, you are in for a real treat. Yea, I'm being sarcastic. Education is serious business. The educated spend adequate time on OSHA and state regulations for infection control. If you book a service with an unlicensed person, you may wind up with a communicable disease or staph.
If you've watched any sugaring videos or Instagram reels, chances are you have stumbled upon the rhetoric and the over posted chart on "Sugaring vs. Waxing", glorifying how much better sugaring is than waxing. Yes, sugaring has amazing benefits, both to the practitioner and to the client. "Sugaring is less painful than waxing" is a blanket statement! Here's why.
Sugaring is mostly about technique and also about the type of paste the practitioner uses. Since the 2020 pandemic, many new Estheticians (hopefully they are licensed), are now having to learn virtually. Prior to the pandemic, most sugaring manufacturers sold ONLY to certified sugarists. When I say certified, I mean that the practitioner has invested time and money to take an extensive hands-on course with live models. Typically these classes are a minimum of 2 days and 16 hours. I do believe that people can learn by watching, but those who participate in a live course will gain comprehension quicker. Plus, it really helps to FEEL the difference between good and bad technique. I digress. There are sugaring manufacturers who sell sugar paste to unlicensed and uncertified individuals. How do you know you will receive a professional and efficient sugaring treatment? Here are 5 key things to inquire or look for when choosing a sugaring professional.
Ensure the practitioner is a Licensed Cosmetologist or Esthetician. The practitioner will have a diploma from an accredited school AND a license from the state's regulating agency.
Ensure the practitioner has had some sort of extended training in Sugaring Hair Removal. Many certified sugarists proudly display their certificate. Keep in mind that it is quite easy to create a dupe certificate, so take a look at this comprehensive list of manufacturers and educators. Reputable manufacturers will NOT sell their paste to anyone who is not licensed and certified. A certificate from the manufacturer's education team cannot be duplicated and will have a legitimate signature on it.
Ensure the practitioner is using a professionally manufactured sugaring paste. There are a brazilian DIY sugaring paste recipes on YouTube. If the practitioner is cooking sugaring paste at home, it may be a challenge to get the consistency correct, which is important. Furthermore, while the risk is low, there is still risk involved in using a "kitchen sugar". Allergens (peanuts in their home), is their kitchen clean (did they cook spaghetti in the same pot?)? etc etc). Professional services require a professional product manufactured in a sterile environment. If you have a really bad reaction, the technician's insurance most likely will not cover a homemade product.
Ensure the practitioner wears gloves on BOTH hands at all times. One word, OSHA. Pin point bleeding can occur anywhere on the body where there is hair. Wearing gloves when sugaring is basic infection control. Yes, even if it is your legs, fingers or knee caps, gloves should be worn while sugaring. A Brazilian sugaring is NOT the only time gloves should be worn. This is just a no brainer. If a technician is cutting corners and attempting to save on PPE, where else are they cutting corners?
Ensure the practitioner is well reviewed. You shouldn't go wrong if you choose a practitioner who is established with rave reviews. Granted, sometimes the Licensed Esthetician is newly certified in Sugaring Hair Removal. Perhaps she/he is the only one in your town or city. We were all beginners once and we appreciate clients who are patient with us while we learn. Typically Estheticians will tell their clients this up front. I am grateful for the clients who didn't give up on me. Just keep in mind and remember…
The Sugaring Application should NEVER hurt!
The application of sugaring paste should never be more excruciating than the actual removal of the hair by the root. If the application is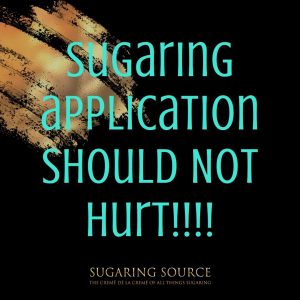 painful, the practitioner needs to adjust their technique. Often times in the cases where the application hurts, the sugaring paste is either too cold/too firm and the paste needs to be warmed or given time to soften up. If your hair is too long, that can be uncomfortable as well. The sugaring practitioner should use a pliable paste (not too firm or cold) and should use a lighter application while applying slowly. When the sugaring practitioner uses a sugaring paste that is too firm in combination with a technique that is firm in pressure, molding quickly… that shit is going to hurt.
Sugaring chains and franchises are on the rise, such as Sugaring NYC. Just like waxing franchises like European Wax Center, you may have to try two or three technicians before you find your "diamond in the rough". If you have a less than stellar experience, please do not write sugaring off for good. You just need to find the most experienced and the best sugaring professional for you! If they have invested in an exceptional educator and taken the time to perfect their technique, you will be in excellent hands!
Find a vetted Sugarist HERE! (We take all the guess work out for you. We have fact checked their credentials and feel confident they will be a great fit for you. If you visit a sugarist on our directory and you feel otherwise, PLEASE send us an email su************@gm***.com.
Author: Jamie Renee Nelms
Jamie Renee owns Your Body's ReTreat in Hurst, Texas. Jamie is a Sugaring Educator, since 2012. Jamie enjoys networking with everyone in the sugaring world!